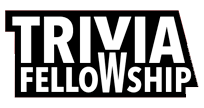 Movie Quiz
Question 1 of 10
GONE WITH THE WIND : "After all, tomorrow is _____ day!"
Question 2 of 10
Who plays Rameses in The Ten Commandments?
Question 3 of 10
What is the name of Spider-Man's alter ego?
Question 4 of 10
How did actor James Dean die in 1955?
Question 5 of 10
Who says "Get your stinking paws off me, you damned dirty ape!" in Planet of the Apes?
Question 6 of 10
Which director is behind : "Pulp Fiction"
Question 7 of 10
Who stars with Frank Sinatra and Grace Kelly in High Society?
Question 8 of 10
A FEW GOOD MEN : "You can't handle the _____!"
Question 9 of 10
Zorba the Greek was set on which island?
Question 10 of 10
What film's plot is about an escape from the world's most secret and secure prison?